Ice Cream Park
Welcome to IceCreamPark. com, this is a wonderful online resource that tells you everything about the world of Ice Creams. This is a must site for those who are interested in Ice Creams. It is interesting to know that Ice-cream was originally called as 'Iced Cream ' which a frozen dessert made out of cow's milk and cream (dairy products) with combinations of sweeteners like sugar, honey and other flavorings.

Ben & Jerry's
Ben & Jerry's is a division of the European Unilever conglomerate that manufactures ice cream, frozen yogurt, sorbet, and ice cream novelty products, manufactured by Ben & Jerry's Homemade Holdings, Inc., headquartered in South Burlington, Vermont, United States, with the main factory in Waterbury.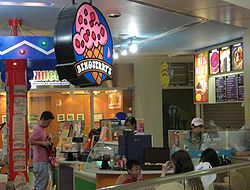 In 1977 lifelong ex-hippie friends Ben Cohen and Jerry Greenfield completed a correspondence course on ice cream making from the Pennsylvania State University. On May 5, 1978, with a $12,000 ] investment the pair opened an ice cream parlor in a renovated gas station in downtown Burlington, Vermont. In 1979, they marked their anniversary by holding the first-ever free cone day, now a nationwide annual celebration.
The founders were able to combine ice cream making with social activism by creating a three-part Mission Statement that considered profits as only one measure of success. By trisecting their measure of success into a Product Mission, an Economic Mission and a Social Mission, they were able to set themselves apart from similarly sized food companies, and generate national attention on their efforts.
In 1980 Ben and Jerry rented space in an old spool and bobbin mill on South Champlain Street in Burlington and began packing their ice cream in pints. In 1981, the first Ben & Jerry's franchise opened on Route 7 in Shelburne, Vermont. In 1983, Ben & Jerry's ice cream was used to build "the world's largest ice cream sundae" in St. Albans, Vermont; the sundae weighed 27,102 pounds. In 1984, Häagen-Dazs tried to limit distribution of Ben & Jerry's in Boston, prompting Ben & Jerry's to file suit against the parent company, Pillsbury, in its now famous "What's the Doughboy Afraid Of?" campaign. In 1987, Häagen-Dazs again tried to enforce exclusive distribution, and Ben & Jerry's filed its second lawsuit against the Pillsbury Company. In 1985, the Ben & Jerry's Foundation was established at the end of the year with a gift from Ben and Jerry to fund community-oriented projects; it was then provided with 7.5% of the company's annual pre-tax profits.
In 1986, Ben & Jerry's launched its "Cowmobile," a modified mobile home used to distribute free scoops of Ben & Jerry's ice cream in a unique, cross-country "marketing drive" -- driven and served by Ben and Jerry themselves. The "Cowmobile" burned to the ground outside of Cleveland four months later, but there were no injuries. Ben said it looked like "the world's largest baked Alaska." In 1988, the pair won the title of U.S Small Business Persons Of The Year, awarded to them by U.S. President Ronald Reagan. Also this year, the first brownies were ordered from Greyston Bakery, which led to the development of the popular Chocolate Fudge Brownie flavor. In 1992, Ben & Jerry's joined in a co-operative campaign with the national non-profit Children's Defense Fund; the campaign goal was to bring children's basic needs to the top of the national agenda. Over 70,000 postcards were sent to Congress concerning kids and other national issues.
In April 2000, Ben & Jerry's announced its acquisition by multinational food giant Unilever. Unilever said it hopes to carry on the tradition of engaging "in these critical, global economic and social missions."
In 2001, Ben & Jerry's U.S. completed transition to "Eco-Pint" packaging, which packaged all pint flavors in unbleached paperboard Eco-Pint containers. The use of brown-kraft unbleached paperboard was a critical first step toward a totally biodegradable pint made without added chlorine. However, due to what they described as increasing supply, quality, and cost challenges, Ben and Jerry's discontinued their use of the Eco-Pint in 2006, transitioning to a pint container made out of a bleached paperboard that they said was more readily available with superior forming characteristics. "Ben and Jerry's Social and Environmental
On Earth Day in 2005, when a vote in the U.S. Senate proposed the opening of the Arctic National Wildlife Refuge to oil drilling, Ben and Jerry's launched a protest by creating the largest ever Baked Alaska, which weighed 1,140 pounds, and placed it in front of the US Capitol Building.
Although the founders are still engaged with the company, they do not hold any board or management position and are not involved in day-to-day management of the company.
Collaboration
Ben & Jerry's has collaborated with a large number of organizations, including many NGOs. Recently, the company has worked with the World Wildlife Fund and explorer Marc Cornelissen to open the Climate Change College. Its aims are to educate normal young people on what they believe are the science, the politics and the campaign strategies behind climate change so that they can then produce a successful campaign of their own. Students become ambassadors for preventing global warming and do their own research in the Arctic.
Caring Dairy Initiative
Since 2003, Ben & Jerry's have been working on a sustainable Caring Dairy initiative, which helps level out needs of the farmers and their cows, as well as the planet's needs. The company has, so far, reduced energy use on their 11 farms by 2%, and converted all their farms to green energy. Also, in 2002, Ben & Jerry's in the USA committed to reducing carbon dioxide emissions by 10% by 2007, and by investing in a variety of efficiency measures, this target was achieved with ease - the USA now produce 32% less carbon dioxide emissions (per pint of ice cream) today (in 2008) than in 2002. This initiative was brought to the exclusive provider of milk for Ben and Jerry's European ice cream production, Beemster Cheese, in 2007.
In addition to helping farmers and their cows, in 2001 Ben & Jerry's began sourcing vanilla, cocoa, and coffee, for their smooth ice creams, from cooperatively run farmer associations - these community structures help promote their members' quality of life, improve worker's benefits, and sustain a commitment to their land and communities. In 2006, the world's first ever vanilla ice cream made with Fairtrade ingredients was launched by Ben & Jerry's. 2007 saw the release of Vanilla Toffee Crunch, using 100% Fairtrade certified cocoa, sugar, and vanilla, and in 2008, Chunky Monkey was guaranteed to be traded in accordance with international Fairtrade standards as well.
Free Cone Day


Girl in cow costume promoting Free Cone Day outside a Ben & Jerry's shop in Stockholm, Sweden

Free Cone Day is an annual event held in late April or early May, in which Ben & Jerry's scoop shops give out free ice cream cones. The 30th annual Free Cone Day took place on Tuesday, April 29, 2008, and the most recent event took place on Tuesday, April 21, 2009 which celebrated the company's 31st anniversary.

Over one million free cones are given away each year, prompting the company's ad slogan "Be One In A Million." Charitable organizations are often present at the stores each year and enjoy a significant amount of fundraising success. Sometimes the event is scheduled to coincide with Earth Day and sometimes volunteers are on hand with clipboards and voter registration forms to help those who would like to register to vote.

The first Free Cone Day was held on May 5, 1979. It was done by Ben and Jerry as a customer and staff appreciation event for the one year anniversary of their ice cream store's opening.

Flavors
Main article: Ben & Jerry's flavors

Cultural significance and reach

Ben & Jerry's was the first brand-name ice cream to be taken into space aboard the Space Shuttle. Most of the cruise ships of the Royal Caribbean International have a Ben and Jerry's scoop shop on board.

Ben & Jerry appeared on the Colbert Report on March 5, 2007 to plug their new ice cream flavor "Stephen Colbert's AmeriCone Dream" and their "grassroots education and advocacy project" TrueMajority.

The pictures of the cows on Ben & Jerry's ice cream cartons were painted by Woody Jackson.

They renamed a flavor, Yes Pecan, in reference to Barack Obama's winning the presidency.

In the popular culture

Ben & Jerry are the names of Ben Horne and Jerry Horne, two evil brothers in David Lynch and Mark Frost's Twin Peaks. In several episodes, they make jokes about ice cream.

Controversy

Allegedly, Ben and Jerry's publicly supported the defense of Mumia Abu-Jamal[citation needed], who was convicted in 1982 of killing Philadelphia Police officer Daniel Faulkner. Despite several appeals, Abu-Jamal's conviction has been upheld. As a result of this alleged support the National Fraternal Order of Police has publicly called for a boycott of all Ben and Jerry's products.

The Ben and Jerry's website refutes the notion that there was ever any connection between the company and the case; however they do say that Cohen did sign a petition as a private citizen to have "the system of American justice be followed fully in the case."

On September 25, 2008 Tracy Reiman from People for the Ethical Treatment of Animals sent a letter to Ben Cohen and Jerry Greenfield suggesting that to prevent cruelty to dairy cows that Ben & Jerry's should use human breast milk in their ice cream products. Ben & Jerry's spokeswoman Liz Brenna says that while the company applauds PETA's novel approach to bring attention to this issue, the company believes a human mother's milk is best used for her child.