Ice Cream Park
Welcome to IceCreamPark. com, this is a wonderful online resource that tells you everything about the world of Ice Creams. This is a must site for those who are interested in Ice Creams. It is interesting to know that Ice-cream was originally called as 'Iced Cream ' which a frozen dessert made out of cow's milk and cream (dairy products) with combinations of sweeteners like sugar, honey and other flavorings.
Latin-America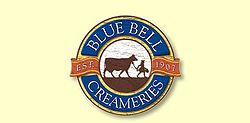 Blue Bell Creameries
Blue Bell Creameries is the manufacturer of Blue Bell brand ice cream, which was founded in 1907. The company, which produces the third-best-selling ice cream in the USA, sells its products in only seventeen mostly Southern states, although Blue Bell ice cream has also been eaten aboard the International Space Station and at Camp David. Corporate headquarters are at the "Little Creamery" in Brenham, Texas.
The Brenham Creamery Company opened for business in 1907 to purchase excess cream from local dairy farmers and sell butter to people in Brenham. Beginning in 1911, the creamery began to also produce small quantities of ice cream. By 1919, the creamery was in financial trouble and considered closing its doors. The board of directors hired E.F. Kruse, a 23-year-old former schoolteacher, to take over the company on April 1, 1919. Kruse refused to accept a salary for his first few months in the position so that the company would not be placed in further debt. Under his leadership, the company expanded their production of ice cream to the local area and soon became profitable. At his suggestion, the company renamed themselves Blue Bell Creameries in 1930 after a native Texas wildflower, which, like ice cream, thrived in summer.
Until 1936, the creamery made ice cream by the batch. They could create a 10-gallon batch of ice cream every 20 minutes. In 1936 the company purchased their first continuous ice cream freezer, which could make 80 gallons of ice cream per hour. The ice cream would run through a spigot, allowing it to be poured into any size container.
Kruse was diagnosed with cancer in 1951 and died within two weeks. His sons Ed and Howard took over leadership of the company. By the 1960s, the company completely abandoned the production of butter and began focusing solely on ice cream. By the end of the decade, the company began to expand their markets. After many years of selling ice cream only in Brenham, the company began selling in Houston, then in Dallas and throughout most of Texas. By the end of the decade, their sales had quadrupled, and by 1980 the creamery produced over 10 million gallons of ice cream per year, earning $30 million annually.
In 1989 , sales began in Oklahoma, and throughout the 1990s, aggressive expansion pushed throughout the South Central and Southern United States. In 1992 , Blue Bell built a new manufacturing facility in Broken Arrow, Oklahoma, and in 1996 , purchased an existing ice cream factory in Sylacauga, Alabama. Once Blue Bell establishes themselves within a market, word-of-mouth usually ensures that consumers in adjacent areas become aware of the brand and begin requesting it. Despite the clamoring, Blue Bell has been slow to expand. Company executives say they thoroughly research each new market and ensure that all employees in the new markets are fully trained in Blue Bell practices so that product quality can be upheld.
Blue Bell introduced its flagship flavor, "Homemade Vanilla," in 1969 and claims to have invented the flavor "Cookies 'n Cream. Although the company at one time made Cookies 'n Cream from Nabisco's Oreo cookies, buying ordinary retail packages, today they bake their own cookies. As of 1997, Blue Bell Homemade Vanilla was the best-selling single flavor of ice cream in the United States.
Current status
The Blue Bell factory in Brenham.
As of 2007, the company operates four manufacturing facilities, the largest a 580,000 square feet (53,880 m²) facility in Brenham, with auxiliary facilities in Broken Arrow, Oklahoma and Sylacauga, Alabama. There are also 45 sales and distribution centers spread throughout their 17-state market. These facilities employ a combined 2,800 employees, with 850 of the employees working out of Brenham. In 2006, annual sales exceed $400 million.
Blue Bell retains control over all aspects of their business, primarily to ensure quality control and the use of the freshest ingredients available. The Kruses claim "the milk we use is so fresh it was grass only yesterday." The company uses milk from approximately 60,000 cows each day, and the ice cream used during each day's production run is always fewer than 24 hours old. All production and packaging takes place within Blue Bell facilities, which are able to produce over 100 pints per minute. Drivers of delivery vehicles personally stock store shelves so that they can ensure that it is handled properly.
Blue Bell holds impressive sales figures, being the third best-selling ice cream in the United States as of 2004 , behind Breyers and Edy's/Dreyer's, despite being sold in only 17 states. The sales area includes southern states between Arizona and Florida and Kansas City, an area that comprises only 20% of the ice cream sales geographic market. By comparison, each of Blue Bell's top 4 competitors sell their products in over 86% of the United States. In order to become one of the three biggest ice cream manufacturers, Blue Bell has consistently been the top-seller in the majority of the markets the company has entered.
Within five months of their entry into Baton Rouge, LA, the company had garnered 35% of the ice cream market. In their home state of Texas, the company has a 52% market share. People living outside the sales area can have the ice cream shipped to them, and U.S. President George W. Bush has often had the ice cream shipped to Camp David. The astronauts aboard the International Space Station were also treated to Blue Bell in 2006 "to help out (the crew's) happiness quotient."
Products
Blue Bell produces over 250 different frozen products. Of these, 66 are flavors of ice cream. Twenty of the flavors are offered year-round, while an additional two to three dozen are offered seasonally.In addition to ice cream, the company produces frozen yogurt, sherbet, and an array of frozen treats on a stick.
Blue Bell is one of the few ice cream companies in the United States to offer a true half gallon (64 oz) container. Recently, competitors Breyer's and Edy's/Dreyer's have shrunk their containers to 48 oz, while many other competitors offer 56 oz containers. A few still offer half gallon "square" style containers.
R.W. Apple, Jr. of The New York Times claims that "with clean, vibrant flavors and a rich, luxuriant consistency achieved despite a butterfat content a little lower than some competitors, it hooks you from the first spoonful. Entirely and blessedly absent are the cloying sweetness, chalky texture, and oily, gummy aftertaste that afflict many mass-manufactured ice creams." In 2001, Forbes named Blue Bell the best ice cream in the country.
Culture
Blue Bell is considered somewhat of an institution in Texas, with visits to its Brenham plant being a popular family activity, especially from the nearby Houston area. For a nominal admission price, the customer gets a tour of the factory and ice cream samples at the end of tours. In 2006, over 117,000 people visited the Brenham facility.
Blue Bell is mentioned in the song "Ohio (Come Back to Texas)" by Bowling for Soup from their album A Hangover You Don't Deserve (2004).
The different colored rims seen on the packaging of this company's products designate the cost of the ingredients used to produce each of the different flavors. Blue Bell flavors like Homemade Vanilla, and ice creams made with cookies, or fruits are often made with a Gold rim. Flavors that are made with nuts, like almonds, pecans, and peanuts, or a more expansive variety of ingredients are made in a Brown rim. Light flavors are produced in a Blue rim. No Sugar Added rims match the carton of which identifies the flavor.