Ice Cream Park
Welcome to IceCreamPark. com, this is a wonderful online resource that tells you everything about the world of Ice Creams. This is a must site for those who are interested in Ice Creams. It is interesting to know that Ice-cream was originally called as 'Iced Cream ' which a frozen dessert made out of cow's milk and cream (dairy products) with combinations of sweeteners like sugar, honey and other flavorings.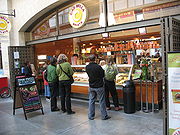 Ciao Bella Gelato Company
Ciao Bella Gelato Company is a company specializing in gelatos and sorbets. It was begun in 1983 in a kitchen in New York City's Little Italy. Traditional recipes from Torino were used. Ciao Bella, as it is more commonly called, is currently owned by Charlie Apt and F.W. Pearce.
History
Ciao Bella began when Pearce saw an ad in 1989 for a small ice cream shop in a newspaper, which was by then 7 years old. Believing it to be a brilliant idea to buy it, he borrowed $90,000 from his mother- enough to buy the store, a freezer, a pick up truck, and the ice cream recipes for 60 flavors. In the beginning, everything, from mixing flavors to delivering the product, was done by Pearce and a few part-time employees. By 1993, he managed to bring sales up to $1 million. In the same year, he was introduced to a banker, Charlie Apt, who was the partner he was looking for to expand to a larger market. Thanks to his knack for sales, which included cold-calling countless restaurants and adding colors and logos to the then-white pints, product sales doubled to $2 million within another year.
The Chef
A worldwide search was conducted in 1999 for an executive chef. Ciao Bella's owners found Danilo Zecchin, an international chef. Danilo draws many insiprations from his childhood memories of Northern Italy.
The Scoops
Although the name of the company includes the word "gelato", Ciao Bella also serves sorbet and frozen yogurt. Ciao Bella can also custom make flavors by chef's request. Ciao Bella's gelato is handmade, based on a family recipe, with 12% butterfat and has 20% air by volume (In comparison to up to 50% air found in some ice creams, and 7~8% found in most gelatos).
Awards & Achievements
Ciao Bella has won multiple awards, many from the National Association for the Specialty Food Trade (NASFT). Zagat has also named Ciao Bella as the "Best Ice Cream in New York" in 2002. In addition, the Angeleno magazine has named it the finest in Los Angeles, and it has been chosen to be the House Purveyor for the James Beard Foundation.