North America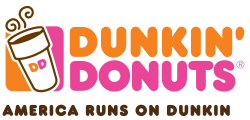 Dunkin' Donuts
Dunkin' Donuts is an international donut and coffee retailer founded in 1951 in Quincy, Massachusetts by William Rosenberg. It is now headquartered in Canton, Massachusetts.


Facts and figures

A Dunkin' Donuts/Baskin-Robbins co-brand in New Castle, Pennsylvania. One of two Dunkin' Donuts locations in New Castle, this store is a former Mister Donut converted to Dunkin' in 1994 and completely rebuilt in 2003 with the addition of Baskin-Robbins and a drive-thru.
Dunkin' Donuts claims to be the "world's largest coffee and baked goods chain", serving 2.7 million customers per day at approximately 8,000 stores in 30 countries which includes approximately 6,400 Dunkin' Donuts locations throughout the USA.This figure compares with the 15,011 stores of coffee chain Starbucks, whose baked goods are usually prepared out of shop. Most Dunkin' Donuts stores are franchises.
Dunkin' Donuts, along with Baskin-Robbins, is owned by Dunkin' Brands Inc. (previously Allied Domecq Quick Service Restaurants, a part of Allied Domecq). Dunkin' Brands used to own the Togo's chain, but sold this in late 2007 to a private equity firm. Dunkin' Brands was owned by French beverage company, Pernod Ricard S.A. after it purchased Allied Domecq. They reached an agreement in December 2005 to sell the brand to a consortium of three private equity firms, Bain Capital Partners, the Carlyle Group and Thomas H. Lee Partners.
In the U.S., Dunkin' Donuts is sometimes paired with Baskin-Robbins ice cream shops. While such locations usually have two counters set up for each chain (much like the Wendy's/Tim Hortons co-branded locations), depending on business that day both products can be bought at the same counter (usually the Dunkin' counter), much like the Yum! Brands stores.
Most of their business competition comes from small locally owned stores, Krispy Kreme doughnuts and Starbucks; in Canada and parts of the Great Lakes region, Tim Hortons is a major competitor. Mister Donut had been its largest competitor in the United States before the company was bought by Dunkin' Donuts' parent company. The Mister Donut stores were rebranded as Dunkin' Donuts.
In the province of Quebec, Alimentation Couche-Tard owns the master franchise to Dunkin' Donuts. In the United States, that company's Circle K convenience stores also share some locations with Dunkin' Donuts. However, Dunkin' Donuts began to close several locations in Quebec within the 2000s because of competitor Tim Hortons opening many Quebec locations. Some Dunkin' Donuts locations continue to open in Quebec, most recently at the Lionel-Groulx metro station. Couche-Tard agreed in August 2008 to terminate its role as master franchisee within 12 to 18 months.
Expanding its operations
In April 2009 the company opened its first hotel restaurant location at the Great Wolf Lodge(R) in Concord, North Carolina. The move is the first of its plans to expand its operations into lodging facilities, airports and sports arenas. Store models will be available for any type of property in these locations and include full retail shops, kiosks and self-serve hot coffee stations.
In June 2009, Dunkin' Donuts announced the opening of at least 12 Dunkin' Donuts restaurants in the Dayton, Ohio region. All twelve of the stores are set to be opened by 2011