Ice Cream Park
Welcome to IceCreamPark. com, this is a wonderful online resource that tells you everything about the world of Ice Creams. This is a must site for those who are interested in Ice Creams. It is interesting to know that Ice-cream was originally called as 'Iced Cream ' which a frozen dessert made out of cow's milk and cream (dairy products) with combinations of sweeteners like sugar, honey and other flavorings.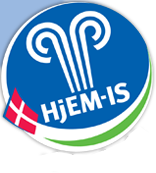 Hjem-IS
Hjem-IS (Denmark, Norway), Hemglass (Sweden) or Kotijäätelö (Finland), all meaning "Home Ice Cream", is a Northern European brand of ice cream. It is known for its distribution system, being delivered to people's homes by its light blue ice cream vans and selling ice creams by the box, in contrast to ice cream vans other places in the world.
Hemglass was originally founded by the Swedish Eric Ericsson in 1968 and later spread its activitites to other countries, establishing itself in Denmark in 1976, and in Norway and Finland in 1993. Today, the parent company, Hjem-IS Europa A/S, is headquartered in Esbjerg, Denmark. The group has been a subsidiary of Nestlé since 2002.