Ice Cream Park
Welcome to IceCreamPark. com, this is a wonderful online resource that tells you everything about the world of Ice Creams. This is a must site for those who are interested in Ice Creams. It is interesting to know that Ice-cream was originally called as 'Iced Cream ' which a frozen dessert made out of cow's milk and cream (dairy products) with combinations of sweeteners like sugar, honey and other flavorings.
Home
<<
Ice Cream Brands
<< Kwality Wall's
Asia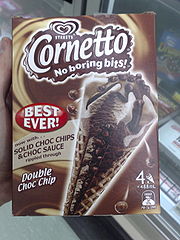 Kwality Wall's
Kwality Wall's is a major producer and distributor of ice cream and other dessert products in India, Pakistan ,Sri Lanka , Malaysia , Singapore. It is a company of Hindustan Lever Limited, the arm of Unilever in India, and is an extension of the Wall's ice cream brand of Great Britain.
Kwality, the original Indian company, was founded in 1956, and was the first in the region to import machinery for the mass production and sale of ice cream on a commercial scale. In 1995, in view of the growth potential of the frozen confections market, Kwality entered into an agreement with Lever, and has since been known by its current umbrella name. At the same time, other brands acquired by Hindustan Lever, such as Gaylord-Milkfood, were phased out in favor of promoting the Kwality Wall's brand. This arrangement allows for local production and sale of Wall's products that are popular in its home market, such as the Cornetto cone, and to create local variations on others, such as the Feast Jaljeera Blast.