Fruit Ice Creams » Orange Ice Cream Varieties » Orange Basil Ice Cream Recipe
Orange Basil Ice Cream Recipe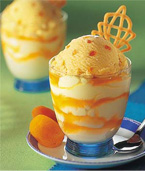 Ingredients
3 cups heavy cream
1 vanilla bean pod, split
6 fresh large basil leaves, coarsely torn or choppe Zest of ½ orange
2/3 cup sugar
Preparation Method
Place a large, heavy-bottomed saucepan over medium heat.


Combine the cream, vanilla, and basil to the pot.


Gently warm the cream over the heat, but do not let it come to a boil.


 Remove the saucepan from the heat when the mixture is just coming to a simmer: you should see steam rising from the surface and small bubbles forming along the edges.


Add the sugar and the orange zest, and stir until combined.


Remove from the heat, set aside and allow the mixture to infuse while cooling to room temperature.


 Optional: Strain into a clean container.


Cover and refrigerate for at least 2 hours until cold, or overnight.


Stir the chilled mixture and then freeze in an ice cream maker according to manufacturer's directions.


 Transfer ice cream to a container and freeze until solid, about 2 hours. Remove to the refrigerator to "cure" about 20 minutes before serving.
Related Fruit Ice Creams