Ice Cream Park
Welcome to IceCreamPark. com, this is a wonderful online resource that tells you everything about the world of Ice Creams. This is a must site for those who are interested in Ice Creams. It is interesting to know that Ice-cream was originally called as 'Iced Cream ' which a frozen dessert made out of cow's milk and cream (dairy products) with combinations of sweeteners like sugar, honey and other flavorings.
Home << Ice Cream Brands << Perry's Ice Cream
North America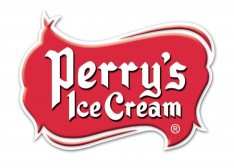 Perry's Ice Cream
Perry's Ice Cream, virtually unknown outside of western New York, is an ice cream manufacturer located in Akron, New York.
In the company's early days, it used hand cranks, ice and salt tub freezers, and horse-drawn delivery wagons in 1918. The company has over 325 employees and distributes its products to New York, Pennsylvania, and Ohio.
The company uses polypropylene film to package its ice cream sandwiches to improve the "shelf appeal and freezer endurance" of its products.