Fruit Ice Creams » Apple Ice Creams Varieties » Taffy Apple Ice Cream Recipe
Taffy Apple Ice Cream Recipe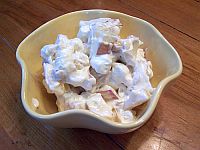 Ingredients
1 cup granulated sugar
1/2 cup packed brown sugar
2 cans evaporated milk (12 ounce) (3 cups total)
1 tablespoon molasses
4 beaten eggs
2 cups whipping cream
3 cups peeled cored, and finely chopped apple
1 teaspoon vanilla
Apple slices (optional)
Caramel ice cream topping (optional)
Preparation Method
In a medium saucepan combine granulated sugar, brown sugar, milk, and molasses.


Cook and stir over medium heat until sugar dissolves; remove from heat. Slowly stir 1 cup of hot milk mixture into beaten eggs, then return to hot mixture in saucepan.


Cook and stir over low heat just until bubbling; do not boil.


Remove from heat. Cool slightly. Cover and chill. Stir in whipping cream, chopped apple, and vanilla.


Freeze in a 4- or 5-quart ice cream freezer according to manufacturer's directions.


Ripen ice cream for 4 hours. Garnish with apple slices and caramel topping, if desired.
Related Fruit Ice Creams