Fruit Ice Creams » Apple Ice Creams Varieties » Apple Ice Cream Roll Recipe

Apple Ice Cream Roll Recipe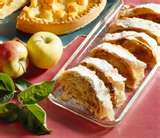 Ingredients
3 large eggs
1 cup of sugar
2 cups of applesauce
1 cup of all-purpose
1 teaspoon of baking powder
1 teaspoon of ground cinnamon
¼ teaspoon of ground nutmeg
¼ teaspoon of salt
Powdered sugar
1 quart of vanilla ice cream
Whipped cream
Preparation Method
Preheat oven to 375°F (190°C). Use ice cream that is slightly softened.


Use only a high quality applesauce that is not too thin. Line a greased 15*10*1 inch jelly-roll pan with waxed paper; grease paper.


Place eggs in a mixing bowl; beat at high speed for 5 minutes.


Gradually beat in the sugar and ½ cup of applesauce.


Sift the flour, baking powder, ¾ teaspoon of cinnamon, nutmeg and salt together.


Blend flour mixture into egg mixture, using low speed.


Spread batter in pan. Bake in your oven for 15 minutes or until cake is lightly browned and springs back when pressed gently.


Sprinkle kitchen towel with powdered sugar; immediately invert cake onto towel.


Remove waxed paper; roll cake and towel together from narrow end.


Allow the cake to cool completely. Unroll cake, trimming edges if desired.


Remove from towel and spread with softened ice cream; re-roll.


Wrap tightly in plastic wrap or foil and freeze. Blend the remaining 1-½ cups of applesauce and ¼ teaspoon of cinnamon. Chill.


When ready to serve, cut roll into slices and top each slice with chilled applesauce.


Serve with whipped cream.
Related Fruit Ice Creams