Fruit Ice Creams » Orange Ice Cream Varieties » Bitter Orange Ice Cream Recipe
Bitter Orange Ice Cream Recipe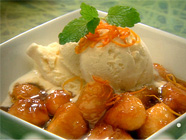 Ingredients
3 Seville orange, or 1 eating orange and 2 limes
175g icing sugar
584ml double cream, a large pot
4 large egg yolks
Preparation Method

If using Seville oranges,grate the zest of two of them.


 Squeeze the juice of all 3 and pour into a bowl with the zest.


 If going for the sweet-orange and lime option, grate the zest of the orange and one of the limes, juice them.


Add to the sugar and stir to dissolve then add the double cream.


 Whip everything until it holds soft peaks, and then turn into a shallow airtight container (of approximately 2 liters) with a lid.


Cover and freeze until firm (from 3-5 hours). Remove to ripen for 15-20 minutes (or 30-40 in the fridge) before eating.


Serve in a bowl, in cones, with wafers - however you like.


All you do to make this is zest and juice some fruit, add icing sugar and cream whisk and freeze.
Related Fruit Ice Creams