Icecreampark » Gelato Ice Creams » Chocolate Gelato Ice Cream Recipes
Chocolate Gelato Ice Cream Recipes
INGREDIENTS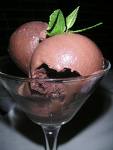 2 ounces fine-quality bittersweet chocolate

2 1/4 cups whole milk

1/3 cup heavy cream

3/4 cup minus

2 tablespoons superfine granulated sugar

1 cup unsweetened cocoa powder

4 large egg yolks
PREPARATION
Grade or chop the chocolate. In a 2 quarter saucepan pour the milk, cream, and half of sugar with a simmer volume.

Stir until the sugar gets dissolved. Then remove the pan from heat and add unsweetened cocoa powder and chocolate, whisk until the chocolate is melted and mixture gets smooth.

In a large bowl, have ice and cold water with electric mixer beat yolks and remaining sugar until thick and pale mix obtained.

Add hot chocolate mixture in a slow stream, whisk and pour into saucepan. Also, cook custard over moderate heat; stir constantly. Freeze chocolate in an ice-cream maker. Transfer to an airtight container and put in freezer for 1 to 3 hours.