Icecreampark » Kulfi Ice Cream Recipe » Coconut Kulfi
Coconut Kulfi Recipe
INGREDIENTS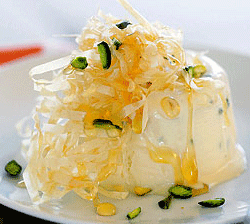 1 litre - milk
200 g - cream
1 cup - coconut milk
1 small cup - sugar
6 cardamoms
PREPARATION
In a bowl, boil milk along with cardamom powder and heat it under moderate condition.
Reduce the heat and keep at simmer and boil the cardamom milk until it reduced and gets thicken.
When the milk gets boiled, remove the cardamom from milk using strainer or filter.
Then add coconut and sugar and blend well in a food processor. Pour the mixture into the container with a lid.
Freeze the mixture until and stir the mixture for every 30 minutes, so that the mixture blends well.
While serving, garnish the kulfi with pistachios, almonds and cashew nuts as desired.