Icecreampark » Gelato Ice Creams » Coffee Gelato Ice Cream Recipes
Coffee Gelato Ice Cream Recipes
INGREDIENTS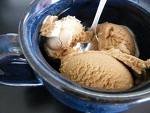 5 large egg yolks
1 cup sugar
1 1/2 cups whole milk
1 tablespoon instant espresso powder dissolved in 1/2 cup hot water
PREPARATION
Take a bowl; whisk the yolks and sugar to get blended.
Boil the milk in a heavy medium saucepan.
Add hot milk into egg mixture, then whisk in espresso mixture.
Pour the mixture in to saucepan and stir over medium heat custard thickens and leaves path on back of spoon.
Refrigerate until cold, about 3 hours, freeze in a covered container.