Icecreampark » Gelato Ice Creams » Dulce de Leche Gelato Recipes
Dulce de Leche Gelato Recipes
INGREDIENTS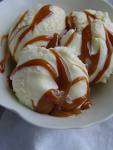 PREPARATION
Combine milk, cream, vanilla bean, salt, sugar and dulce de leche. Bring into simmer.

Whisk egg yolks. Take the mixture in two half cup measure and pour into egg yolks and whisk quickly.

Once the mixture gets blended well, then pour it back into saucepan.

Cook the gelato mixture over medium low heat and stir constantly. Strain through fine mesh sieve and refrigerate for four hours.

Once the gelato is completely cooled, freeze it in the ice cream maker.