Ice Cream Jones
Ice Cream Jones was a cartoon character and also a spokesperson for the Ice Cream Cones breakfast cereal, that made by General Mills. Since the cereal came in to the shape of ice cream cones and good scoops, the idea was that Ice Cream Jones distributed the cereal from his bicycle, in the similar manner to that of an ice cream truck. In the TV advertisements, he use to declare (in song), "My name's Ice Cream Jones, and I'm delivering' my ice cream cones, in the new ice cream cereal for the breakfast and with the great taste of ice cream cones!" The cereal was discontinued in 1987 along with Mr. Jones.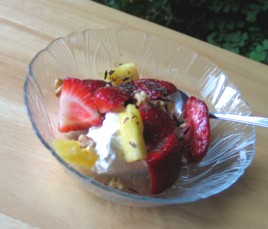 Ingredients
1/2 c. butter and butter (half in half)
1/3 c. sugar
1/4 tsp. vanilla
3/4 c. flour
2/3 c. finely ground pecans (may use Moulin grater)

Steps
In large bowl at medium speed, beat butter and butter. Add 1/3 cup sugar and vanilla ice cream and continue beating until it is well blended. Gradually add flour and then beat until well mixed. Stir in pecans. Press mixture into bottom and 1 inch up sides of 10-inch spring form pan.
Bavarian Torte
Ingredients
1 tsp. cinnamon
2 (8 oz.) pkg. cream cheese
2 eggs
1/2 c. sugar
1 tsp. vanilla
1 (29 oz.) can sliced peaches, drained
1 tbsp. brandy with peaches (optional)
Steps
Preheat oven to 400 degrees. In small bowl at medium speed, beat cream cheese and sugar until smooth. Beat in eggs and vanilla until well blended. Then pour mixture in pan with crust mixture.
In bowl, combine 1 teaspoon sugar and cinnamon. Add peaches and toss gently. Arrange peaches on top of cream cheese mixture and bake 10 minutes. Reduce heat to 400 degrees and bake 30-35 minutes more. Cool in pan 20 minutes and remove sides. May be served warm or refrigerated.
NOTE: When baking, this torte steams out and would gunk up your oven. Placing a sheet of foil in bottom of oven will catch the over cook.