Fruit Ice Cream » Pear Ice Cream Varieties » Pear Ice Cream Recipe
Pear Ice Cream Recipe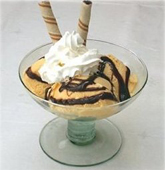 Ingredients
1 1/2 pounds ripe pears thinly sliced, about 3 cups
1 cup pear juice
1 tablespoon fresh lemon juice
6 egg yolks
3/4 cup sugar
2 cups heavy cream
1 teaspoon vanilla extract
1/2 cup corn syrup
Preparation Method
Combine the pears, the pear juice and the lemon juice in heavy saucepan.


Bring to boil over medium-high heat.


Transfer to processor; purie until smooth. Chill until cold.


Whisk the egg yolks, vanilla and the sugar in a bowl to blend.


 Bring 1 cup of cream to simmer in a saucepan. Gradually whisk hot cream into yolk mixture. Return to the same saucepan...


Stir over low heat until the custard thickens and leaves path on back of spoon when a finger is drawn across, about 7 minutes. Do not the mixtures boil?


 Pour through strainer into bowl. Mix in the other cup of cream.


 Cool for 15 minutes.


Add the corn syrup and the 3 cups of pear puree to the custard and whisk until blended Chill custard until cold, at least 4 hour or overnight.


Transfer custard to ice cream maker.


Process according to manufacturer's instructions.


 Transfer to covered container and freeze.
Related Fruit Ice Creams