Icecreampark » Gelato Ice Creams » Pineapple Coconut Gelato Ice Cream Recipes
Pineapple Coconut Gelato Recipes
INGREDIENTS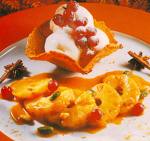 PREPARATION
Add sugar & water in large saucepan and boil over moderate low heat.

Stir the mixture until the sugar dissolves. Remove the pan from heat and cool completely.

Mix the pineapple and coconut milk in a large bowl and stir in the sugar syrup.

Pour the mixture in the ice cream maker freezer container and freeze as per the instruction of the manufacturer.

Spoon gelato into a freezer container and freeze for an hour until it firms.