Fruit Ice Cream » Plum Ice Cream Varieties » Plum Ice Cream Recipe
Plum Ice Cream Recipe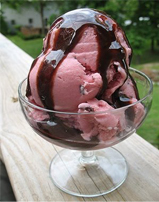 Ingredients
3 cups diced purple or black plums (about 6 plums)
1 cup sugar
3 cups whipping cream
1/4 cup slivered almonds, toasted (optional)
Preparation Method
Cook plums and sugar in a saucepan over medium heat 5 minutes or until plums are tender and sugar is dissolved.


Process plum mixture in a food processor until smooth; strain and discard skins.


Stir together plum puree and whipping cream in container of a 2- or 4- quart electric freezer.


 Freeze according to manufacturer's instructions.


Pack freezer with additional ice and rock salt, and let stand 1 hour before serving.


Serve with almonds, if desired.
Related Fruit Ice Cream