Fruit Ice Creams » Sapote Ice Cream Varieties » Sapote Ice Cream Recipe
Sapote Ice Cream Recipe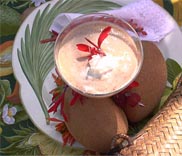 Ingredients
1 cup black sapote, pulp
1 dash salt
2 tablespoons cold water
600 ml cream, beaten stiff
3/4 cup sugar
1 teaspoon agar or gelatin
3 tablespoons boiling water
Preparation Method


Soak gelatin/agar in cold water.


Mash pulp until its smooth.


Add sugar and mix well.


Add agar OR gelatin which has been dissolved in hot water.


Chill until thickened.Beat until light. Fold in the whipped cream using a wire whisk.


Pour into a refrigerator tray and freeze.


For Vegetarian do not use regular Gelatin use the Agar-agar.
Related Fruit Ice Creams